Just an awesome weekend. The skies gave us a break from the grey, cold misery just in time to spend the weekend walking around the Highlands (in Louisville) to catch some Vitamin D and good sidewalk conversations. On top of that, I'm really happy with this week's turnout of music. Something about this whole set just works so well together, so if you're at your house or work, turn it up and let it play you through whatever your doing. It's an hour's worth of the best soundtracking you'll get all day.
[podcast]http://files.me.com/kylemeredithpromo/nj6qkc.mp3[/podcast]
Ted Leo & The Pharmacists – The Mighty Sparrow
Ted's songs are simple rock music through some upbeat pop-punkish tempos. It's his formula and what he's known for. It may be nothing that you can sink your teeth into, but if you're looking for some goodtime fun, he's your guy. He's an entertainer and a pretty great one. Come to think of it, I'd love to catch a triple bill with The thermals and Andrew WK.
Kiki Pau – An Old Song
There's something in the strum that makes me think of the Proclaimers a lot in this cut from the Finish popsters. "An Old Song" comes courtesy of the latest World Music Alliance Pact and was the first one to grab everyone attention from the amazing group of artists.
Black Rebel Motor Cycle Club
BRMC seem to walk cool in every note they sing. While the last record didn't grab me, this new single definitely has me re-interested. It's a confident stroll through indie land showing the new breed who's been carrying the load just fine for the past decade. Take note kids, you're playing their songs.
The Broken Bells – Vaporize
The record folks told me that I'd be getting the full length this week from the James Mercer / Dangermouse duo and I seriously can't wait. Yes, I know there is a leak circulating, and usually I'd be over it, but this one sounds like it's going to sound soooo good on vinyl. Call me old fashion, but I'm waiting to soak this one in.
Trail Magic – Don't Grow Up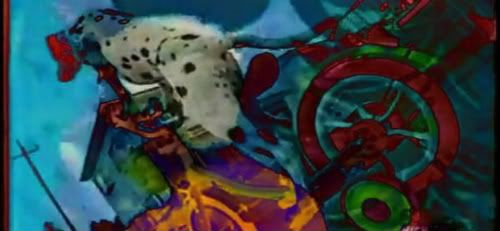 Have you seen those incredible YouTube video's from the dude who takes Disney movies and uses just the sounds of the movie to make a music megamix? Well, this reminds me a lot of that, minus the Disney affiliation. It's a sample mash/mix thing that evokes its own youth and magic, and puts me in a pretty great mood every time.
Lightspeed Champion – Marlene
I was told this song would grow on me, and it has for the most part. There is still something about the chorus that drives me away that I can't pinpoint, but those "whoa-oh's" are a lot fun.
The Morning Benders – Excuses
There are so many things about Excuses that puts me at the school dance scene in Back to the Future. It's got a 50's sway to it that would make Bobby Darin happy, even when they're singing about everyone turning to dust. Quite nice, and caught a lot of folks off guard by a recent live take on Yours Truly.
The Radio Dept. – Heaven's On Fire
For much of the past two weeks, this has been one of the biggest blogged songs out there, and I'm just not sure I get it. Catchy little ocean-side key style intro with a playful bass, but ultimately, it's just not grabbing me. In less I'm missing something, I think this is a hype machine a'working.
Yeasayer – Ambing Alp (Alan Wilkis Remix)
Alan has made some of my favorite remixes of the past year, which is exactly how long he's been at the job. You can hear the full phone call here where we discuss how he accidentally got involved as a remixer, as well as plenty of clips of other awesome tracks that he's left his thumbprint on.
Janelle Monae – Tightrope
It's about time she wrapped up her sophomore disc. This is the lady that blew us all away with her debut that eventually landed her some Grammy's and kept us from mourning the loss of any new Outkast for the last few years. In fact, Big Boi helps her out on this tune, and since she was brought in under the wings of Andre 3000, it's not hard to imagine that he's present here as well.
Japandroids – Art Czar
Japandroids had one of the best avant-punk records of last year. Put em' up against No Age and you've got a heckuva fight. I would say that this is a one-off between records, but that would imply they've stopped touring behind the last one, which isn't true. Catch em' at least through the summer, and enjoy a few more of these seven-inches in the interim.
Grand Atlantic – Coast Is Clear
There hasn't been a song like this that's caught my ear in a while. It's reeks of mid 90's guitar rock and I absolutely love it. Those harmonies are all STP. In fact, this feels like a few of those STP songs that I actually liked, which isn't something that's very cool to admit these day, but whatever. It's a fine song on a great record. Amazingly, we've come full circle to where this is interesting again. Has it been that long?
Robert Smith – Very Good Advice
Sure it's weird and off tempo and feels creepy, but it's the dude from The Cure and he's covering a 1951 Disney song! That's awesome, because he's doing exactly how you think he would do it. I think this one has been hit and miss with a lot of fans, but I'd love to hear him do a few more tracks in this Elfman vein. I don't, however, recommend the Almost Alice soundtrack that it comes on, unless you like you're Smith jammed up next to Avril Lavigne and Shinedown. Boooooo, Buena Vista Records. For shame.
Baby Monster – She Comes Alive
Fun electro track, but nothing special to say about it. You know, you can sing along to it to some slow movin'. Highly enjoyable though.
****************************************************
The Weekly Feed is distributed by WFPK and Louisville Public Media. The executive producer is Stacy Owen, with additional help from WFPK's Laura Shine. Produced and hosted by Kyle Meredith. Make sure to say hi, yeah?
Join The Facebook Group